This safari packing guide will help you to solve of the hardest aspects of travel, to master especially when you know you're going to be in multiple climates. You can check your favorite weather app several times before placing your first piece of clothing in your suitcase but somehow that persistent 'what if' feeling nags at you until you've got 6 pairs of jeans for a trip to the beach 'just in case'. I am all for 'what if' emergency underwear, but no one has ever, nor will ever, wear jeans on the beach. Leave them clean and folded at home.
Traveling from the warm coastal climate of Watamu beach to the crisp, clean safari air can make packing light feel impossible. The biggest change your packing needs to account for is the temperature drop at night when you're on safari. Pack a few items to accommodate the change in temperature and you'll be able to comfortably travel with a medium sized carry on. Follow the below tips to pack just the right amount for your upcoming beach to bush trip (skip to the end for a suggested packing list):
Pack for your usual beach holiday
I'm talking about hats, sunglasses, swimsuits etc. You know the drill. The Kenyan coast has repeatedly won awards for having some of the best beaches in the world. Expect to spend most of your time on the beach in Watamu in a swimsuit.
You'll have little to no need for shoes; most restaurants and bars (particularly those on the beach) will serve you without them. At most you'll need a light cover up. Evenings generally don't get too cold so you'll be fine in a t shirt and shorts. If you're planning on going for a fancy dinner, most upscale dining establishments simply ask that you wear shoes, no swimsuits, cover your shoulders and your knees.
Follow this Kenya beach & safari packing guide:
One pair of sneakers or boots will do
Personally, I avoid bringing boots because they take up a lot of space and weight. However, if you have a pair you're looking to break in or just love boots, they'll keep your feet dry on safari. Otherwise, I opt for packing sneakers. If it's the rainy season, consider bringing a pair of sneakers you don't mind getting muddy and wet.
At most, bring 2 pairs of pants
One of these pairs of pants (if you choose to bring two) can be jeans. Generally, you'll need these pants at night when you're in the bush if it's cold out. One pair that you can rewear is enough the other pair could be linen or light for when you're at the beach.
One big sweater and 2 long sleeve shirts
Bring the one sweater you can always rely on to keep you warm. Generally, these are bulky and take up space so I recommend only bringing one. By the end of multiple nights by the fireplace, it'll smell a little smokey but you're on safari and that's acceptable. Long sleeve shirts are great for early morning game drives and indoor dinners.
Ladies, 1 long skirt or sundress will suffice
I like having a nice skirt or dress for my many 'what if' scenarios: what if you want to go for a formal dinner? What if you get asked on a date? Or, the most probable scenario, what if you need to look cute for an Instagram? Whatever the case, better safe than sorry.
Roll, don't fold, your clothes
Rolling your clothes will give you more space to pack everything you need. It's surprisingly effective. If you're worried about something getting wrinkled, ask the receptionist for an iron when you arrive.
Packing liquids
You'll need sunscreen and mosquito repellent/bug spray. If you're unable to get TSA approved 100ml bottles, you can always buy these when you land. There are plenty of stores around Watamu and they're ready available essentials in airports.
Leave space!
When you come to the end of your packing list you may realise you still have ample space to throw in that Hawaian shirt you've been meaning to wear. Fight the temptation to throw it in the bag. The Kenyan coast is filled with vendors selling kikoys and Maasai shukas, traditional Kenyan woven cloth that come in many colours and are great for cover ups at the beach and blankets on safari respectively. Plus, you'll find jewelry and knick knacks along the way so having some space to take back a souvenir is ideal.
Screenshot or print this for your packing list:
2 swimsuits
1 pair of pants (1 pair jeans optional)
2 pairs of shorts
1 pair flip flops
1 pair sneakers or boots
3 pairs of socks
1 pair of underwear per day of travel (plus 3 back up, in case of emergency)
1 t-shirt per day of travel (or less)
2 long sleeve shirts
1 hat
1 warm sweater
Sunglasses
1 scarf (optional)
1 long dress/skirt (optional)
Sunscreen + mosquito repellent (optional to buy on arrival)
1 sundress or bikini cover up
The above Kenya packing guide essentials will set you up for a comfortable 5 – 7 day trip. Now that you've taken care of the big 'what to pack' question, you can sit back, relax, and enjoy your beach and bush safari in Kenya.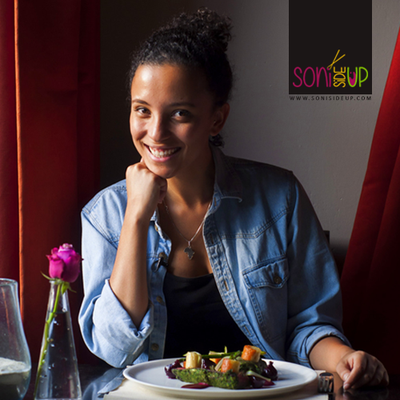 Hi! I'm Soni
📍 eating my way through Nairobi, Kenya and occasionally around the world 🌎 🍔🍕🍣🍺